Study Day: Power Network Digitalization Impacts on Protection, Automation and Control - 10/06/2022: 09:00 - 17:30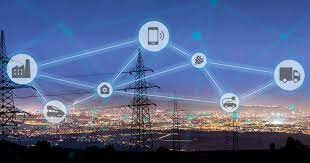 From : Friday, June 10, 2022
To : Friday, June 10, 2022
Venue : SIEMENS, Guido Gezellestraat 123 – 1654 Beersel, Entrance Parking via Demeurslaan 132 - 1654 Beersel
Tickets
Ticket Workshop Power Network Digitalization (updated price after login)
€496
Buy Tickets
Power Network Digitalization
Impacts on Protection, Automation and Control
10 June 2022
SIEMENS, Guido Gezellestraat 123 – 1654 Beersel
Inscriptions / Inschrijvingen:

via le site internet – via de website: http://www.kbve-srbe.be

ou par email – of via email:

Informations / Informatie

patricia.matthys@synergrid.be 
Depuis toujours, les systèmes de protection, d'automatisation et de contrôle sont des éléments importants pour le bon fonctionnement de tout système électrique, depuis les réseaux de Transport et Distribution jusqu'aux installations industrielles mais aussi dans les installations de production (décentralisée ou non).

 

En effet, ces équipements doivent non seulement minimiser, en cas de défaut, l'impact sur l'intégrité du matériel constitutif du réseau (transformateurs, postes, câbles et lignes, …) mais également veiller au maximum à la continuité de l'alimentation électrique.

 Actuellement, le système électrique est en pleine évolution, notamment en termes de puissances de courts-circuits, d'inertie, … mais aussi de nouvelles possibilités apportées par la digitalisation.

Cette journée d'étude passera en revue les dernières évolutions au niveau des principes et du matériel utilisé pour la protection, l'automatisation et le contrôle. Ainsi, seront abordés l'utilisation croissante de nouveaux algorithmes et équipements, l'évolution des capteurs, des fonctionnalités d'intelligence artificielle et de « Digital Twin », les communications, de nouveaux outils de tests et de simulations, la problématique de l'obsolescence des solutions digitales, … et la manière dont divers utilisateurs les intègrent dans la conception de leurs solutions.

 La SRBE vous invite à une journée d'étude où tous ces sujets seront présentés par des gestionnaires de réseaux, des experts du monde académique et industriel, des constructeurs de ces équipements. Cette journée permettra des échanges entre ces orateurs et les participants.

 

 

 Beveiligings-, automatiserings- en controlesystemen zijn altijd belangrijke elementen geweest voor de goede werking van elk elektrisch systeem, van transport- en distributienetwerken tot industriële installaties, maar ook in productie-installaties (al dan niet gedecentraliseerd) .

 

Deze apparatuur moet immers niet alleen, in geval van een storing, de impact op de integriteit van de componenten waaruit het netwerk bestaat (transformatoren, onderstations, kabels en lijnen, enz.) minimaliseren, maar ook zorgen voor maximale beschikbaarheid van elektrische energie.

Momenteel evolueert het elektrische systeem, vooral in termen van kortsluitvermogen, inertie, ... maar ook nieuwe mogelijkheden door digitalisering.

 Deze studiedag zal de nieuwste ontwikkelingen bespreken in termen van de principes en apparatuur die wordt gebruikt voor bescherming, automatisering en controle. Dus het toenemende gebruik van nieuwe algoritmen en apparatuur, de evolutie van sensoren, kunstmatige intelligentie en "Digital Twin" -functionaliteiten, communicatie, nieuwe test- en simulatietools, de kwestie van veroudering van digitale oplossingen, ... en de manier waarop verschillende gebruikers deze integreren in het ontwerp van hun oplossingen.

 

KVBE nodigt u uit voor een studiedag waarop al deze onderwerpen worden gepresenteerd door netbeheerders, experts uit de academische en industriële wereld, fabrikanten van deze apparatuur. Tijdens deze dag is er ruimte voor uitwisselingen tussen de sprekers en de deelnemers.

 
Sponsor de la journée – Sponsor van de dag
SIEMENS
Programme – Programma
Certains titres sont provisoires - Sommige titels zijn voorlopig.
08:30

Accueil des participants - Ontvangst van de deelnemers

 

 

09:00

Accueil – Welkom KBVE-SRBE

Introduction par Cédric Moors, ELIA, Président de la journée

Inleiding door Cédric Moors, ELIA, Voorzitter van de studiedag

 

Needs and vision of the system operators

09:15

Substation Protection, Automation and Control Functions: Past and Future Evolution, Dieter Binon – ELIA

09.40

Evolutions in MV distribution in Belgium and their impact on the protection plan, Pieter Vermeyen, Fluvius

10:05

 

Evolutions in the Belgian transport system and their Impacts on the Protection Philosophy, Cédric Moors, ELIA

10:30

Questions & Answers

10:45

Pause café - Koffiepauze

 

 

Innovations proposed by academics

11:15

 

HVDC grid protection: how to achieve selectivity on a millisecond timescale?, Willem Leterme, Energyville

11:40

Voltage control in distribution systems using deep reinforcement learning, Bashir Bakhshideh Zad, U.Mons

12:05

Software solutions to facilitate the integration of renewables into distribution networks, Damien Ernst, ULiège

12:30

Questions & Answers

13 :00

Lunch

 

Available solutions

14:00

Integration of RES-plant functionalities in IEC61850: Feasibility and interoperability with substations. Practical use-case return of experience, Stijn Uytterhoeven, ENGIE-LABORELEC

14:25

Digital twin and Virtual Testing of Protection Relays in the Cloud, Claire Chevalier, SIEMENS

14:50

Wired and wireless digital communication for mission critical application, possibilities, and challenges, Stefaan Vleeschouwers, Hitachi Energy

15:15

Solving renewable and power electronic integration challenges to grid with WAMPAC solutions, Sankara Subramanian, General Electric

15:40

New testing solutions for protection and automation systems in power networks, Frédéric Dunet, Omicron

16:05

 

Questions & Answers,

Conclusions

16:30

Drink

17:00

The end
Informations / Inlichtingen:
Inscriptions / Inschrijvingen:
De préférence avant le 3 juin 2022 / Bij voorkeur vóór 3 juni 2022:
via le site internet – via de website: http://www.kbve-srbe.be
ou par email – of via email: patricia.matthys@synergrid.be
---

 

Membres SRBE-SEE - membres des Services publics fédéraux et régionaux /
KBVE-SEE-leden en leden van de federale en regionale overheden: .......................................................

 

360,00 EUR

Non-membres / Niet-leden: ............................................................................................................

600,00 EUR

Membres Enseignants / Leden onderwijzend personeel: .....................................................................

236,00 EUR

Membres jeunes diplômés (- 30 ans) /Leden jonggediplomeerden (- 30 jaar)..........................................

79,00 EUR

Membres Étudiants (- 26 ans) / Studenten-leden (- 26 jaar): ................................................................

79,00 EUR

Membres pensionné(e)s / Op rust gestelde leden: .............................................................................

79,00 EUR
Ces prix sont TVA (21%) comprise /
Deze prijzen zijn inclusief BTW (21%)
La participation donne droit aux textes des exposés, aux rafraîchissements, au lunch et au drink.
De deelnemers krijgen de teksten van de voordrachten en hebben toegang tot de koffiepauzes, de lunch en de drink.
Si vous voulez bénéficier du tarif membre / membre enseignant / membre pensionné / membre jeune diplômé, vous devez être en règle de la cotisation 2022.
Indien u wenst in te schrijven aan het voordeeltarief voor leden / leden onderwijzend personeel / op rust gestelde leden / leden jonggediplomeerden, moet u in orde zijn met het lidgeld 2022.
Inscription par le site de la SRBE / Inschrijving via de KBVE-website
Si vous voulez vous inscrire à la journée d'étude, il est important que vous vous connectiez sur le compte de la personne qui participera. Si vous n'avez pas encore un compte sur le site, vous pouvez en créer un. Après avoir fait la commande, le tarif s'adaptera automatiquement si vous êtes membre.
Vous devez être en règle de la cotisation 2022 pour pouvoir bénéficier du tarif préférentiel de membre.
Indien u zich wenst in te schrijven voor de studiedag, is het belangrijk dat u zich inlogt op het account van de deelnemer. Indien u nog geen account hebt, kunt u er een aanmaken. Nadat u de bestelling voor de studiedag geplaatst hebt zal het tarief zich automatisch aanpassen indien u lid bent.
U dient de lidmaatschapsbijdrage voor 2022 te hebben betaald om in aanmerking te komen voor het preferentiële lidmaatschapstarief.
Pour information: Tarifs Cotisation / Ter informatie: Lidmaatschapstarieven:
Cotisation SRBE:                Membre effectif.................................................. 169,40 EUR
                                           Pensionné et jeune diplômé (-30 ans).................. 82,28 EUR
                                           Étudiant de dernière année (-26 ans)....................... Gratuit
Lidmaatschap KBVE:          Effectief lid.......................................................... 169,40 EUR
                                           Gepensioneerd en jonggediplomeerden (-30 jaar)....... 82,28 EUR
                                           Laatstejaarsstudent (-26 jaar)..................................... Gratis
(tarif TVA comprise– tarief BTW inclusief)
Remplacement / Vervanging:
Le remplacement d'une personne inscrite est possible (veuillez nous en avertir) avec une éventuelle adaptation du tarif (membre – non membre).
De vervanging van een ingeschreven deelnemer is mogelijk (gelieve ons te verwittigen) met een eventuele aanpassing van het tarief (lid – niet-lid).
Annulation / Annulatie:
En cas d'annulation, signalée par écrit au secrétariat avant le 3 juin 2022, 25% du montant total reste dû. Après cette date, le montant total vous sera facturé. Le remplacement d'une personne inscrite est possible (veuillez nous en avertir).
Bij annulering, schriftelijk meegedeeld aan het secretariaat vóór 3 juni 2022, is 25% van de bijdrage verschuldigd. Bij latere annulering dient het volledige bedrag betaald te worden. Vervanging van de ingeschreven persoon is mogelijk (gelieve ons dit te melden).
KBVE-SRBE - C/o Synergrid
Patricia Matthys, Galerie Ravensteingalerij 4 box 2 - 1000 Brussel/Bruxelles
Tel.: +32 2 237 11 18  – E-mail: patricia.matthys@synergrid.be  
"La SRBE met tout en œuvre pour respecter la loi sur la saine concurrence."
"De KBVE spant stelt alles in het werk om de wet op de gezonde concurrentie na te leven 
Contact Person : ¨PATRICIA MATTHYS
Phone : 022371118
Email : patricia.matthys@synergrid.be